Our training seminars are defined by: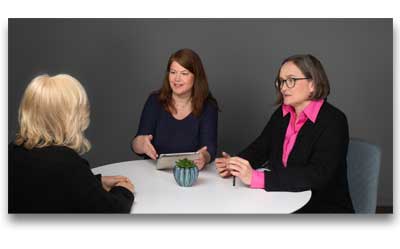 Individual preparation – Thanks to the modular structure of our seminars, we are able to tailor our training to your needs. We prepare ourselves ahead of time for our participants' individual research topics.


Extensive practice – Personal feedback in small groups at the end of each practical lab session is a key component of our seminars.


Reading materials for each unit – summarizing the unit in brief, concise terms. The handouts can be used for reference after the seminar.


Learning with motivation – We want our participants to enjoy working with the media and communicating with the broader public.


Instructors with practical experience – Our instructors are professional science journalists who are able to draw on their own work experiences in their teaching.


We're in close contact with others in the field – The more than 1000 previous participants in our seminars have shared their media experiences with us, and we incorporate these experiences into our teaching.


All four media platforms – We work in the print, radio, television, and online media. We're happy to provide more in-depth training in any of these areas.


The other side of the desk – we offer that perspective, too. Several of our instructors have years of experience in press and public relations work, including management of a PR agency.


Different research cultures in one team – Our instructors have research backgrounds in medicine, the humanities, and the social and natural sciences.


Trust and transparency – We pledge complete confidentiality towards our clients and adherence to the ethical standards of journalism as stated in the press code of the German Press Council. These include not using the research topics of course participants in our own journalistic work and informing editors of our client relationship if relevant.